Shockwave therapy is a safe, effective treatment for injured soft tissues like the plantar fascia and tendons. It provides a non-invasive alternative to surgery and is highly effective in the management of pain as well as activation of the body's healing processes.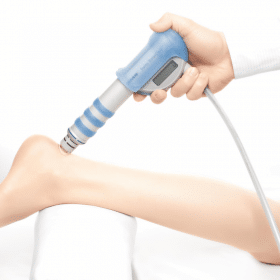 Here at OsteoCare Craigieburn, we use the DolarClast machine, which is the best shockwave therapy machine available (in our opinion!). We trialled several of the best shockwave therapy machines available on the market today, but when it came to the DolarClast, there was no comparison.
In this article, we'll explore what conditions can benefit from the best shockwave therapy machine; the DolarClast.
Patellar Tendinopathy (Knee Pain)
This is an injury in the tendon that connects your knee cap to your shin bone, causing pain in the front of your knee. This is a common complaint among athletes and people who play a lot of sports.
By using the best shockwave therapy machine, we can successfully treat patellar tendinopathy by sending shockwaves to the affected area and stimulating the body's natural healing process. Shockwave therapy is typically used in conjunction with exercises to improve your tendon's ability to handle the weight.
Gluteal Tendinopathy (Hip Pain)
If you have severe pain in the side of your hip you may have gluteal tendinopathy. This painful condition involves the tendons that connect the gluteal muscles to the hip bone.
Shockwave therapy can help to alleviate pain associated with gluteal tendinopathy and often results in a normal return to pain-free activity, depending on the severity of your condition.
Shoulder Tendinopathy
If you have bad pain in your neck, shoulder or arm you may have shoulder tendinopathy, especially if this pain is accompanied by a restriction in movement in your arm. Damage to your shoulder tendons can occur from repetitive movement and could also be linked to poor posture.
Effective treatment and management of pain involve the use of the best shockwave therapy machine coupled with some rehabilitation exercises.
Hamstring Tendinopathies (Leg Pain)
When the soft tissues that connect the muscles in the back of your thigh to your pelvis or lower legs become damaged what results is often hamstring tendinopathies.
A series of sessions with the best shockwave therapy machine along with prescribed exercises can usually resolve symptoms of this condition. This condition can become chronic though, so it's important to identify what's causing the pain.
Plantar Fasciitis (Foot Pain)
Plantar fasciitis is a painful condition of the foot that is often difficult to treat, but with the best shockwave therapy, machine symptoms can be alleviated.
Plantar fasciitis occurs when the fibrous tissues in the sole of your foot become inflamed. This condition can occur when you overuse your feet; such as an increase in running, walking or standing for long periods. Or if you wear footwear that doesn't support your feet properly.
Experience the best shockwave therapy machine when you visit OsteoCare Craigieburn
If you suspect that you may be suffering from any of the above conditions, book an appointment with one of our shockwave therapy technicians at OsteoCare Cragieburn. We can help to diagnose your condition and recommend the appropriate treatment to help alleviate your pain. Not everyone is suitable for shockwave therapy, so it's important we understand your history before administering this treatment.
Give us a call on 1800 067 836 to find out if shockwave therapy is the right option for you.