The latest in exercise technology
The telemedicine industry has been consistently innovating over the past few decades in an effort to apply the latest technology to patient care. Our clinic always strives to be on the cutting-edge of science to ensure we can provide the best care in Melbourne.
That's why we decided to incorporate Physitrack into our practice. This article is going to delve deeper into what Physitrack is and why you should be excited that it's now a part of our clinic.
What is Physitrack?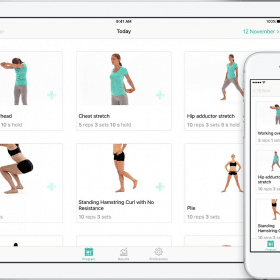 If you sustain a serious injury, then you'll likely need to get a few hundred hours of therapy and exercise to fully recover. Sadly, this isn't always possible due to scheduling constraints. That's where telehealth platforms like Physitrack come in.
No matter how helpful an osteopath is during visits, it can be difficult for some patients to maintain that pace once they get home. Even patients who genuinely want to cooperate with the home regimens tend to struggle with motivation and busy lifestyles.
That's where technology comes in. Physitrack makes it easy for our osteopaths to assign exercises to all our clients without having to manually create programs, something that would end up slowing down the whole process significantly.
Since being founded in 2012, it has been touted as a pinnacle of telehealth since it not only helps with exercise assignment but also the wider telehealth picture as a whole, including outcome tracking.
How to get access
Our osteopaths already have a member account set up on Physitrack, which means we can add you manually at any time or even use our integrated patient management system. All we need is your first name and the date of our birth to enter you into the system.
Once this is set up, we'll generate a program that's tailored to your recovery plan and assign exercises as needed. The access code we give you can be used to log in through your browser or the PhysiApp mobile app available on both Android and iOS.
Benefits of Physitrack
One of the best things about Physitrack is the fact that its exercise library is one of the biggest on the market, containing over 3,500 unique exercises that our osteopaths can assign to you.
The feedback on Physitrack is world-class, providing information on pain levels, exercise adherence, and other metrics.
The program is based in the UK and focuses on identifying digital solutions that can improve the quality of public healthcare.
These are just a few of the reasons that Physitrack is such an effective solution in a wide array of private practices. The use cases are almost limitless, especially as the developers continue to improve upon the platform.
Conclusion
As you can see, Physitrack is on the cutting edge of telehealth, using its online platform and mobile applications to make the recovery process smoother for patients as well as their osteopaths!