How Can It Help?
People first heard of radial shockwave therapy in 1980. During this period, it's used to pulverize kidney stones. It wasn't until the early 2000s that the US Food and Drug Administration approved it to treat plantar fasciitis and lateral epicondylitis or "tennis elbow." Since then, this treatment method has been widely used in Europe and Canada, and now, in Australia. We are seeing more and more people looking for qualified osteopaths who can deliver shockwave therapy in Melbourne.
What Is Shockwave Therapy?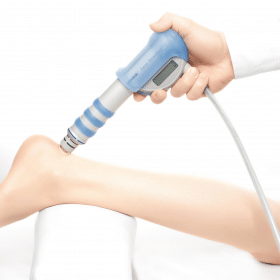 Radial shockwave therapy is a non-invasive, safe, and simple procedure that treats various orthopedic conditions. From the word itself, "shockwaves" are directed to the injured area using a handheld probe, thereby reducing pain and stimulating the body's healing process to improve mobility.
Sports medicine practitioners extensively adopt this approach as a solution to injuries that don't respond to standard treatments, such as rest, therapeutic exercise, and medications. It's also common in the world of orthopedics, physiotherapy, and urology, and podiatry.
Shockwave therapy treats many chronic musculoskeletal conditions like:
Plantar Fasciitis
Tennis elbow (lateral epicondylitis)
Tendinitis
Osteoarthritis
Rheumatoid arthritis (RA)
Carpal tunnel syndrome
Lateral epicondylitis
Fibromyalgia
It can also address knee, shoulder, and neck injuries, even muscle knots, and sprains. Depending on the severity of the injury, it may be necessary to undergo multiple treatments for complete healing.
Unlike a surgical intervention, radial shockwave therapy has minimal to zero downtime. Right after the procedure, a patient may experience numbness, minor pain, tingling, and slight discomforts. Other than these, the person can drive, walk, or do tasks that don't stress the treated area.
How Does Radial Shockwave Therapy Help?

Shockwave therapy is scientifically proven to treat both the symptoms and the underlying problems that affect the tendons, muscles, bones, and connective tissues. It's a better alternative to surgery and oral medications, and it also helps:
Stimulate metabolism
Improve the reparative processes of the body
Improve blood circulation to repair damaged tissue
Accelerate healing with minor side effects
Relieve pain
Increase the range of motion and mobility
Radial shockwave therapy is effective, less risky, and affordable. A session only lasts around 5-10 minutes per injured area.
What Is Involved in the Treatment?
Here in OsteoCare Craigieburn, we provide the best radial shockwave therapy treatment with a DolorClast machine. DolorCast offers products and technology that exceed industry quality standards, in turn allowing us to deliver the most result-oriented shockwave therapy treatment to our clients.
The session begins by applying an ultrasound gel to the affected area. Once the machine is set, an osteopath will use the device's head to send acoustic shockwaves to the injured part for 5 to 10 minutes. The shockwaves revive the body's healing mechanisms and reactivate the healing process. The intensity and frequency of the shockwaves can be adjusted for comfortability.
After the treatment, the person can go back to their daily routines as long as they don't stress the newly treated area.
Reclaim Your Health
Generally, radial shockwave therapy is combined with oral medication, exercise, and other treatments to get the best results.
Never let an injury stop you from living your best life. Call us on1800 067 836 to book a session of shockwave therapy in Melbourne.